---
---

Welcome to the Webmoney Now Game Room!! Kill some time playing Breakout, Pac-man, Missile commando, and tons of other great time wasters! Have fun, and come back often They're all FREE!!!
Navigation



Play our New, Highly addictive
popup game of Scratch And Win!

Brand New! Hangman!
It's the classic word game with a High tech twist!

Play our newest game Tail Gunner!
WOW! You really have to see this game to really appreciate it! This is a Blast!

Play Tic Tac Toe!
The Timeless classic is here! An awesome time waster!

Play Battleship!
The Classic strategy game is here,and this time the opponent is smarter than your six year old brother was!

Play Pac-Man!
That chompin' little yellow guy is back and we got him.

Play Missile Commando!
the Cold War classic in all it's 4-bit glory!

Concentration!
Test your short term memory skills.

Torpedo Alley.
Another arcade classic reborn!

Falling Stars.
Get them before they get you! It's not as easy as it first looks.

Breakout!
Remember playing this on your "New" Atari?
Off to the Races!
I have no idea why the programmer decided to race Crabs,and I really don't want to know! But it really is a fun little game! And it even works on Web-TV!!

Free JavaScripts provided
by The JavaScript Source

Even More Games!
Play Shockwave games,arcade games,board games,and More!
Check out our New Toys!
---
How about a game of Blackjack?
Yeah, I know it's not very flashy, But it's still kinda fun,and it's a great way to practice for your next trip to the Casino!!
Free JavaScripts provided
by The JavaScript Source
---
Twenty Questions!
You can tell that this was programmed by a teen, but it's a cute little game!

> Play Twenty Questions!
center>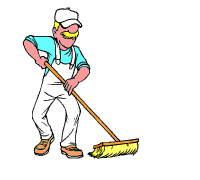 sure wish you guys would clean up behind yourselves!